Canvas Awnings: Wholesale Fabric, Parts & Supplies
Canvas Awnings to Protect Your Home in Style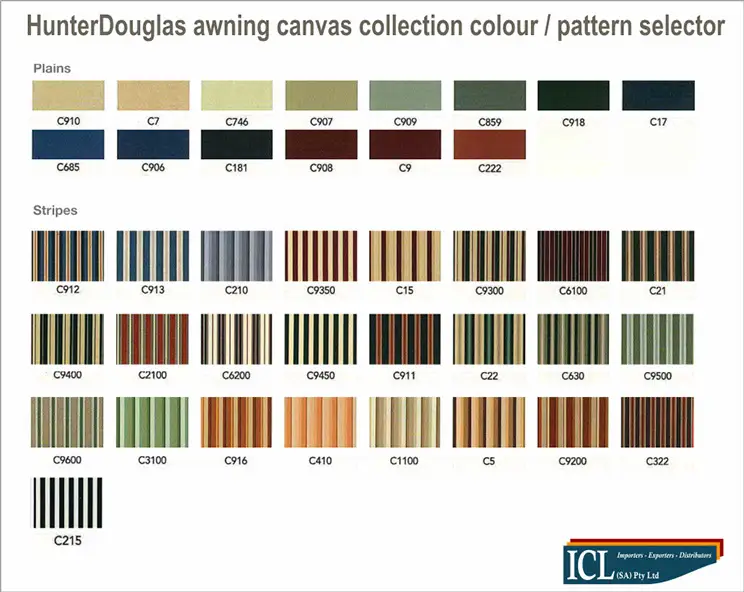 Awning Canvas by Hunter Douglas Components
Hunter Douglas Components offers a range of external canvas and sunscreen fabrics that are highly durable and versatile for the Australian market. Offering technically superior external fabrics with exceptional solar properties for enhanced energy efficiency and light control, Hunter Douglas remains the market leader in external window coverings.
When you choose from the Hunter Douglas range for your outdoor canvas awnings, you can:
Reduce the heat gain your home endures when the sun enters your windows.
Block direct sunlight from hitting your windows, therefore stopping harmful UV rays from entering your home.
Darken rooms quickly and efficiently.
Improve the aesthetics of your home.
Available in 220 cm and 280 cm widths (not all colours) and treated with Duraguard® Fabric Protector, Hunter Douglas awning canvas is a blended 52% polyester 48% cotton, plain woven fabric. There are 15 double sided plain colours and 22 stripes with plain on the reverse side.
Find the Right Awnings for Your Home Today
Here at ICL SA, we not only have the appropriate fabrics to produce high-quality blinds and awnings, but we also carry a complete range of the components required to assemble and install your particular type of blind or awning.
Whether you're looking for a stylish addition to your home, a way to extend and weatherproof your outdoor areas, or to protect your plants and furniture from the harsh Aussie sun, our experts are always available to help you find the best awnings to suit your needs. Reach out today to find the best solution for your requirements.